Routine make-up tips: 10 ways to nail a "NO-MAKEUP"; make-up look!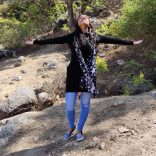 You might be searching for that make-up tips that gives a natural and glowing look along with keeping your skin fresh and young for the whole day wearing makeup! You should wear a different make-up routine that is subtle and simple by using light shades that makes you look gorgeous and stand out for any occasion.
Let's start from the beginning, what to apply from start:
#1- CTMP
You should always follow a strict skincare routine even whatever brand you use in make-up. If you follow the strict skin-care routine you will probably have to use less foundation comparatively. Start by Cleansing your skin very first; then use a toner that makes your skin glow and moisture it for skin tightening. By using a primer you can make you face with a make-up look a long time to stay on your face.
#2- Foundation and Correction
To make your skin look fresh and flawless you should start with day makeup. Choose a skin tone that is similar to your skin colour and conceal the dark spots with a concealer. By taking foundation on the back of your hand mix it with moisturizer. By applying this composition on your face; use a make-up blender or sponge to apply this mixture on your skin.
#3- Concealer
The Concealer you choose should be two-tone lighter than your skin colour. Apply it on the inner and outer corners of your eyes. Rest for a while and then blend it again from inside to out. Ring fingers should be used for blending. As the skin under your eye is thin, the tips of your fingers take less pressure to keep it wrinkle-free.
#4- Eyebrows
Fill your eyebrows to bring it together. Use a spoolie brush to fill the scant spaces. To get natural full-looking brows, brush them again.
#5- Eye Make-up
Light peach or brown shades that suit your skin colour should be applied on your full lid and blended it making it crease-free. In the middle of your lid, a part of shimmery shadow should be applied and blended it around the edges with fingers. Don't use much shimmer that makes it overlooked.
#6- Lashes
Use the illusion of full lashes by tightening line of lashes. Then apply mascara on it. Firstly apply the downward strokes making the lashes look well coated and then secondly make to upward stroke to see the difference. For balance, look applies the mascara in the lower lash.
#7- Lipstick
If you want your lips to look natural use light pink or peach nude by tinting it to make a finished look.
#8- Blush
To have a look that matches your lipstick, take a blush that matches it. By applying a few dots on your cheeks, sponge it immediately. Use a foundation brush if you want to apply more to make it look lighter.
#9- Highlighting
For highlighting use it with light shimmery shadow. To give your skin look natural and glowing apply using it with a blender.
#10- Setting
In winters usually, you don't need to set our face to make it stay a long time but if you have oily skin then you can use translucent powder. Take a little amount of powder on your face and swirl it by removing access powder and then pat on your face with the lightest way.