Apple Cider Vinegar as a cleanser for beautiful and luscious hair!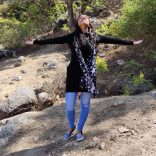 One of the reasons we recommend using natural is the versatility and experimentation that hair offers as a result of using natural shampoos. The natural pH level of your scalp is about 5, which is slightly acidic. Which keeps your hair's cuticle layer flat and closed, this acidity level is important for hairs so that it does not create any breakage, keeps your hair smooth and less frizzy.
However, many shampoos and hair products have more alkaline or say pH level, maybe above 7 which disturb or disrupts the acidity level causing dryness, breakage and makes your hair frizz and tangling. Due to this, it makes us switch between different products which may not be built your hair days if irritation occurs effectively.
So the best effective solution for such a problem is apple cider vinegar. ACV is gaining popularity in the beauty world due to its numerous benefits. It could be your natural hair's best beauty essential. It's used to balance hair pH, remove product build-up, treat dandruff, soothe itchy scalps, and add shine to natural hair. It also improves scalp health, strengthens hair, and enhance shine. For those who are facing issues with their hairs, ACV may be the best natural remedy for their hairs to explore.
Advantages of ACV for hair care
There are numerous reasons why this trendy health condiment is beneficial to your hair. Let us discuss it in detail.
Acidic and pH: – For starters, apple cider vinegar is an acidic chemical that has several well-studied health benefits. It contains a heavy portion of acetic acid. Hair that seems dull, brittle, or frizzy is hair to have a higher pH level on the scale and is more alkaline. The notion behind using ACV is to keep the pH level in the balance of your hair, as ACV helps to reduce the pH level and bring hair health back into balance.
Has Antibacterial and Anti-fungal Properties: – Antifungal and antibacterial activities are claimed to exist in apple cider vinegar. ACV's acetic acid aids, to prevent fungal development. It also protects your scalp and hair healthy by preventing bacterial growth. ACV's phenolic components include antibacterial and antioxidant capabilities and the ability to inhibit fungal and bacterial growth.
Add Elasticity to your Hairs:- Keep in mind that compounds with a low pH have more hydrogen ions (as opposed to hydroxide ions). The more hydrogen connections there are in your hair, the more manageable and elastic it will become over time.
May Help Treat Dandruff: – Apple cider vinegar has been reported to aid with dandruff and itching on the scalp. Apple cider vinegar's antifungal and antibacterial qualities may help reduce itchy scalp and dandruff. However, more research is been required in this regard.
Add shine to your hair:- While many components in hair care treatments open your hair cuticles, apple cider vinegar, according to some, closes them. Your hair strands will be smoothed out as a result of this. Hair cuticles that have been opened are more prone to dryness, breakage, and frizz. However, anecdotal data suggest that ACV improves the luster and brightness of your hair strands.
Usage of ACV Rinse for Natural Hair
It's all about restoring equilibrium to your hair when you use apple cider vinegar. Be careful while using ACV, as if you are not careful it gets overdo easily. If your hair or scalp problems get worse instead of better, stop taking ACV. Alternatively, reduce the amount of rinse you use or the frequency with which you apply it.
Acetic acids in apple cider vinegar are known to be caustic. This means they have the potential to irritate or burn the skin.
Before applying ACV directly to the skin, dilute it with water. If your rinses are excessively strong, dilute them more; nevertheless, if irritation occurs, it usually goes away within a few regards remember to keep your hands far from your eyes. If you come into contact with something, wash it out as soon as possible.
Although there are no known side effects from using ACV on natural hair, some people complain that it dries their hair out. There isn't much evidence to back up this allegation.
If you follow the above rules, using apple cider vinegar is perfectly safe.
The takeaway
The usage of apple cider vinegar as a hair rinse is supported by science. By reducing the pH of the hair and scalp, it may assist to strengthen and increase the shine of the hair.
It may also help to prevent annoying scalp infections and itching. However, it should not be used to relieve inflammation or treat diseases or disorders of the scalp, such as dandruff.