PCJ'S Summer Collection: 5 Skirts that should be sure in your wish list!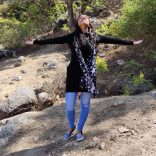 Summer is upto knock our door and there is no better way to comfort yourself that in a silky skirt. Priyanka Chopra Jonas- an International style icon always had a soft spot for silhouette. The stars are always finding ways to have different pieces that are tried and tested making it fuss-free, girlish and impact. Chopra proved that the best part is that skirts can be styled with any of T-the Shirts, crop tops, jackets and even crop tops. Our articles will show you quick lessons on her favourite cuts, lengths and even some useful styling tips.
A matchy- matchy outfit has been styled by her that is wearable in indoors. This star looks too much cozy in her crumble free knitted co-ordinate with a mock turtleneck and a midi skirt. When you are in middle of summer, this midi skirt is perfcet to throw. It will keep you cool and cozy at the same time showing the right area of your skin.
During the lockdown, Priyanka Chopra Jonas and Nick Jonas did a mini-photo shoot at their place that was related to "Feed"- an holiday campaign. The star for her look with cream coloured turtleneck and pearly white satin skirt picked up a neutral palette. The skirt added a lux to her cosy outfit topped with a sweater. As per a statement, this outfit can be ensemble to spruce it to show the figure.
3
A mini skirt that is catchy-vibrant
PCJ's powerful mini skirt is answer to all the obsessed with Illuminating Yellow that is Pantone's colour of the year. The top part-Blazer is of same yellow colour that is padded on the shouldee to make it stiff and studded with black button giving a joyful vibe. The vinyl detailing on the hemlines of the skirt with a patch on its pocket made it interesting. This mini skirt is perfect for a casual meeting or a formal brunch. You can style it even with a white T-shirt.
4
Florals that spell summers
The prints on skirts especially in summer won't go out of style because it has its own charm. You can take some ideas about prints from PCJ's maxi skirt that is featured with a lace trim by Paco Rabanne. To make a perfect workwear wadrobe you should surely follow these mixing prints collections. She wore it on smart checkered blazer.
5
The date night essential
For an outing in New York, PCJ picked up a powerful monochrome look. The blouse was assembled in deep red that was paired with crimson coloured leathered skirt by Akris. The skirt that she wore of a wraparound detailing made her look in not so basic look. PCJ proved that you could never be wrong with tuning in head-to-toe assembling.