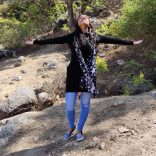 Materials required
Coconut oil: Half of a cup
Cornstarch/arrowroot powder(in case of sensitive skin): One fourth of a cup
Baking soda: One fourth of a cup
Essential oil( depending upon one's choice): One eighth to one fourth of a teaspoon
How to make the deodorant
Melt the coconut oil if it has solidified by microwaving it for about 10 seconds or until it becomes liquefied completely.
Add essential oil of your choice to the coconut oil.Next put in cornstarch and then baking soda. Mix thoroughly until it is smooth
The prepared mixture can be kept in a jar and applied with hands but for applying it easily the mixture should be kept in a deodorant tube.
Tip: It is a good idea to keep the deodorant in the refrigerator as the melting point of coconut oil is low.