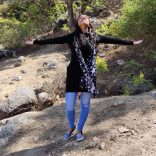 Dating again! Moreover, yes as per reports; South and Bollywood stunning actress- Shruti Hassan is in Love again. As per rumours; the actress is dating a doodle artist- Shantanu Hazarika who is based in Delhi.
On the 35th birthday of the actress, her date took to social media and posted pictures of them celebrating Birthday bash. The caption was "Happy Birthday Princess". On several occasion, they have been seen together.
They celebrated her birthday in Mumbai while they were seen walking hand in hand together. The apparent couple were spotted even at Hyderabad Airport. Shruti hasn't confirmed their relationship yet but they look adorable with each other. Have them look at the photos they have posted to get major couple goals!