Imagine What Happens to Your Poop in An Airplane Toilet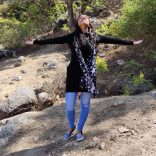 Sometimes, you need to attend the call of nature and squeeze into the tiny airplane bathroom for releasing the pressure in the stomach for bowel discharge. What happens to it? You may recollect stories about blue ice coming from the sky and falling on rooftops.
Yes, it is the waste coming from airplanes. The blue chemical deodorizer gets mixed up with the liquid and solid wastes to form a distinctive colour and at least on 27 instances, it leaked and froze on the exterior body of the aircraft and started to melt off as the aircraft began to lose altitude for landing. It is unpleasant to find great blobs of human waste falling from the sky, it dangerous as well. Hence a new system had to be taken up. Airlines began to engage the vacuum system in the 80s for the same.
Water is not the perfect choice for airplanes. Imagine a situation when the plane encounters turbulence with you in the lavatory. Be thankful to the suction system and you don't get splashed all over with dark blue chemical –laced liquid. When you use the flush button, it opens a valve sucking down the waste in the Teflon coated bowl underneath.
The system is very fast and sucks away the poop just like the racing car into the large holding tank, which don't leak unlike older ones ad there is no blue chemical to form ice any more. They are emptied at the airport before the planes is ready for takeoff. It is a dirty job, which is done by a truck called the Honey Truck and the brave hero with the hose pipe.