Flower Trails: Witness such places in India where there are flowers and plateaus more than people!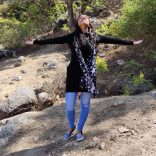 India, a nation with picturesque landscapes and sceneries that will leave you with awe for its sense of contentment and tranquillity. The flower trail of India is a part of this natural delight that can keep you laughing, blooming, and dancing everywhere in riots of colors. If you want to re-discover your love for nature, do visit these incredible trials.
Munnar witnesses the most extraordinary flowering phenomena in our country as it is exactly a flower trail and a special one. A flower named Neelakurinji (Strobilanthus) a flower that blooms only once a year, but when it blossoms it turns the Munnar Valley into a blue flowering delight. Munnar is already famous for its attractive weather and alluring sights in the tiny hill station but when Neelakurinji blooms, it gives a different experience.
2
Kaas- Plateau of Flowers, Maharashtra
Kaas Pathar is a fairyland that is located 130 km away from Pune. IN 2012, UNESCO declared it as a biodiversity site. It is a pleasant half an hour drive from Satara, which won't let you go back once you enter there. the flowers keep on changing throughout the day that means the flowers you saw in the morning will not be the same in the evening. Kaasa Flower also blooms thereafter what this valley is named as. The Vajra Waterfalls and Kaas Lake are beautiful attractions and you can visit them close by. The best months to visit Kaas Plateau are August and September. Don't forget to pack your raincoats and a good pair of hiking shoes.
3
Valley of Flowers- Uttarakhand
It is part of UNESCO's World Network of Biosphere Reserve and this valley proves it. A valley which is imagined full of flowers and more yet to arrive. It is set in the Himalayan Ranges. When you smell the spellbound smell and visualize the hue of colors, you made the trip. If you visit this trail; don't forget to stop at the picturesque hiking destination Hemkund. Believe me, you won't regret it! The best months to visit here is from July to September. If you want to trek here you need to take permission from the forest department.
This gorgeous flower valley which is situated in North Sikkim elevates 3500 meters above sea level. It is situated at a tree-line i.e. the altitude where there are no trees. You have to see a mingling of happy Himalayan flowers and deep green trees and 24 species of Rhododendrons. During spring, the star of the show- Rhododendrons, paints the valley red. While you enjoy the trail, you can take a cab to Gangtok from Bagdogra airport where you can get a permit to visit. You will be amazed by seeing it. As the spring season has the best show, the best months to visit is during May and June. As it is close to the Indo-China border, don't try to mess around without instructions. Also, don't forget to carry your warmest sweater and gloves.
In the Northeast, the most popular hiking trails is just a reason behind. This valley is almost magical as it is situated at the border of Nagaland and Manipur behind the Japfu peak. Due to its different species of flowers; Dzukou is an unforgettable sight. It is famous for its lush green and Rhododendrons.
The valley becomes more magical as two little streams pass by with crystal clear water sparkling in the sun, winding through the valley. If you want to visit you have to hire a cab from Dimapur and a few hours worth of hike and you are mirrored to the beautiful paradise. Once you visit here, you would not like to go back. There is no problem with overnight hiking as there are many guesthouses here. As monsoon makes the valley even more beautiful; the best months to visit is from June to September.