WATCH VIDEO: Little Chinese Boy with metal pipe Fights with Police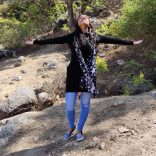 You must have the experience of witnessing grown up men protecting women and take various risks to save the woman with life. It is amazing to see a cute kid standing in between his grandma and offenders to save the old lady.
The particular video is viral in the Chinese social media shared through People's Daily, which is a real dose of cuteness. The little boy waves the steel pipe in defending his grandma from government officials engaged in stopping illegal vending on streets. The boy shouted not to touch his grandma, which was threateningly cute.