The Vegetarian Crocodile "Babiya" Guards A Temple In Kerala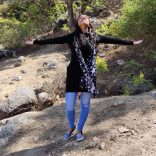 India is full of fascinating stories. Besides historical memorials, which make places remarkable, there are several other amazing stories that make India a really incredible nation. Here is the story of "Babiya", the crocodile that guards the famous Anathpura Lake Temple in Kerala.
According to the legend, "Babiya" is the local guardian of the temple and consumes the Prasad offered at the temple, which is made of rice and jiggery and does not hurt anyone, not even the fish of the lake. It is believed that the crocodile is vegetarian and is guarding the temple since last 60 years.
According to the version of a trustee of the temple, the crocodile is strictly vegetarian and is fed through the mouth just like an elephant with the Prasad offered by devotees themselves after the noon worshiping ceremony is over.
There is yet another legend, which describes the story of the existence of "Babiya". Once, Sree Vilvamangalathu Swami, follower of Lord Vishnu was carrying on penance for his beloved Lord. During the prayer, Lord Krishna took the form of a small boy emerged and began irritating him. Becoming upset with the conduct of the child, the saint pushed aside him. The small child right away faded away into a nearby cave and the saint could realize the noble truth. The crevice where Lord Krishna faded away still exists in the temple. The crocodile earnestly guards the entrance and the shrine.
There is another story, which depicts that a British soldier shot dead the crocodile in 1945. Some days later, the soldier succumbed to death due to snakebite. People believed that it happened due to the curse of the snake god Anantha. Soon after, another crocodile emerged in the lake. It is believed that if one crocodile dies, another one appears immediately.
It is also believed that if you are lucky enough, you would witness "Babiya" swimming in the lake .Yes, indeed it is an fascinating temple, isn't it ?