The Road The Malayalam Music video captures the spirit of Travel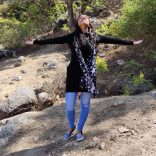 The Malayalam music video, "The Road- All India Travel" which released recently is an ode to travel. To encapsulate the spirit of wanderlust the song goes the extra mile by complementing its uplifting lyrics with shots that are captured over 30 landmarks spread across 10 States.
The director and editor of this video is Ananthu Rajan, the illustrations of this video collected themselves were the results of the cast and crew's need for travel. In March 2019, Anoop Nirichan-composer of this song sent me the initial version of this song that was supposed to be shoot on a small-scale travel version. Ananthu from Pala in the Kottayam district stated that they later felt they could set the visuals in a larger context.
Babu TT writes the lyrics of this song and Crishna of Music Band Masala Coffee sings the song. Brilliant director Gautam Vasudev Menon propelled the song and it was released on the YouTube channel Ondraga Entertainment
He said that the initial schedule of shooting was from Kochi to Khardung La in Ladakh that is supposed to be the world's highest motorable pass and covered 90% of the illustrations required. They covered approximately 7,000 km in total and they made their return back from Kerala to Delhi by train after dispatching their motorbikes in Cargo. They went home after 30 days of the shoot.