Sunny Leone's Nude Picture on the Website Puts Hyderabad Civic Body on the Back Foot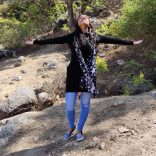 Leaders of the ruling party and civic body officials have been put on the back foot since two days as one of the links appearing on the homepage of the GHMC or the Greater Hyderabad Municipal Corporation website takes visitors to a nude picture of the Bollywood actress Sunny Leone.
Maintaining a safe distance from the present content of the website, B.Janardhan Reddy, Commissioner GHMC issued a statement stating that the website was mainly used for the verification of attendance of workers and for keeping track of vehicles engaged in garbage disposal.
'The Hindu' reported that Reddy had discontinued the OSRT or the offsite real time monitoring system services two years back and issued directives to vigilance department to investigate the matter.
Kiran Chandra of Swetcha, a free software movement organization commented that since GHMC failed to renew the domain hosting the OSRT website, it lost the ownership of the domain, which was acquired by a separate body that hosted pornographic contents.
The police said that so far no official action or any complaint has been instituted against anybody.