Huma Mobin, the Lady Who Proceeded Alone on Her Honeymoon!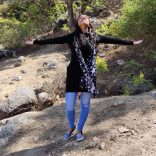 Let good sense prevail right at the beginning – you must not miss your life partner on the honeymoon because the spouse is expected to accompany you. Yes, it should be just like this, but this world is really crazy. Ask ad-lady Huma Mobin from Pakistan, who proceeded to her second honeymoon without her hubby.
Huma and her hubby Arsalaan Sever planned the honeymoon in Greece, but certain visa concerns prevented Arsalaan from joining the trip. Primarily, she wanted to cancel the trip, but as the trip was also paid for, she continued on the trip. The obvious tragedy suddenly was transformed into comedy when she sent pictures of Greece depicting how much she missed her hubby.
Huma's pictures with an arm in the air and the nearly crying face became the embodiment of tragicomedy!