Exciting Skincare Tips for the Cruel Winter Winds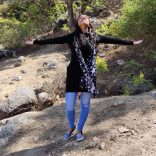 Take care of the skin this winter with the following to give a glowing look.

Moisturizer for the Skin–  Use a good body lotion just after the shower when the skin is still wet. It is the right time when the skin retains the needful moisture.  Dr. Dhir recommends the application of the lotion on the skin at least two times a day or as required.
Hydrate the skin – Drinking plenty of water makes the skin glowing and healthy. The cold herbal tea is really helpful.
Exfoliate the skin –  An effective body scrub and exfoliation of the face helps remove dead skin cells from the surface. It needs to be done at least once every week. It generates a feeling of freshness and the skin gets rid of old and dry cells.
Humidifier – The humidifier is capable of holding moisture and can be obtained from the local drug outlet. The extra moisture helps the skin remain supple and soft rather than dry and crumbling.
Glove up –  The simple tip is very useful to retain the moisture of hands. Use a pair of gloves without causing irritation to the skin. Dr Dhir emphasizes that wearing of gloves even for an hour help soften the skin.
Oil bath for the skin – Oil penetrates to the internal layers of skin and helps restore the natural barrier of the skin. Adding a few drops of essential oils such as jojoba or almond to the bath provides effective nourishment to the skin.
Stop lick – Lips dry up very fast as they do not generate sebum. Hence an oil-based product should be preferred over the wax-based item to obtain help in healing of chapped lips.
Avoid blow dry – The blow drier generates hot air and makes the scalp dry and may cause irritation to the skin as well. Opt for the tousled look or use the wavy style to avoid the use of blow drier now.