Blue Tea: All you need to know about this Incredible Butterfly Pea Flower Infusion
A beverage that is bearing a prominent blue colour, compliments the name itself. It is made up of the Clitoria ternatea plant. Other names of this medicinal shrub indigenous to South East Asia are butterfly pea, cordofan pea, blue pea, aparajitha and Asia pigeonwings.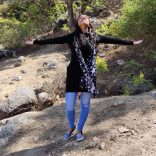 At the current time, blue tea is a popular food. The wonderful benefits for human health are weight loss, detoxifying the body, pacifying the mind, enriching skin texture and improved of hair growth.
Clitoria ternatea is found in the countries of South-East Asia of Thailand, Vietnam, Indonesia, India and Sri Lanka. It belongs to the family of Fabaceae. The flower of the butterfly pea plant consists of bright blue petals used as an ingredient in herbal tea drinks for centuries. When you mix the blue flower that imparts blue colour into hot water, it leads to being used in dye and various traditional dishes.
Method to prepare Blue Tea
Here are few simple steps to prepare Blue Tea:
Boil some Blue Pea flower petals with dried lemongrass in water for 10 minutes.
Add some honey as per your sugar intake.
Serve warm before meals.
Blue Tea can be consumed cold, post meals to support digestion and to enhance healthy sleep.
Unbelievable benefits of Blue Tea
It improvises digestion:
Rich in antioxidants, this tea is best for your detox diet, especially in summer. Antioxidant protects your body against free radical action. Free radicals are that substance that can damage healthy cells in the body. If you drink a cup of Blue Tea once or twice a week on empty stomach it removes out the waste toxins that is gathered in your system and improves digestion of your body.
Elevates Mood
Blue Tea has earthy flavour that enhances your mood. Blue tea helps reduce symptom of anxiety as it has stress-bursting effects. It refreshes brain, boosts levels of stamina, progressive emotions is influenced and productivity at work is increased.
Weight loss is augmented
Blue Tea is open from caffeine. Its also free from zero carbs, fats and cholesterol. It purifies the gut of any food waste and impurities and regulates appetite. It is an ideal drink for weight loss. Blue Tea is a remarkable herbal drink to maintain perfect body weight. This tea also curbs cravings for junk food.
Enhances Skin health
Blue Tea consist of flavonoids that stimulates collagen production. It helps to maintain flexibility of skin. If you drink Blue Tea regularly it removes indigestive food particles from the digestive system that clears the stomach, liver and kidneys. This in change cleanses the body from inside and brightens your dull skin. It also help to remove dark spots and uneven skin tone.
It increases the growth of hair
Blue Tea is good for hair as it contains anthocyanin; a compound that is known to enhance blood circulation in the head maintaining a healthy scalp. The hair follicles are strengthen by Blue Tea from inside.