5 Things You Must Do When in Dubai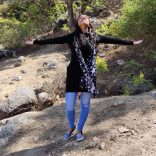 You require a short trip to break free from the din and bustle of the daily life to feel rejuvenated.
Hot Air Ballooning: This action has the promise of a great adventure. Glide through the great Dubai desert and enjoy the sunset in a hot air balloon. It is surely a condition of unmatched adventure, which you would treasure forever.  Find the beauty of Dubai in a magical ride over sand dunes, camels and gazelles. You must never miss this flying mission ever.
Kayaking: Looking for adrenaline pumping adventures? Go for Kayaking, the most promising sporting activity that you should definitely try in Dubai. Sail out in the water in a double kayak and enjoy the beauty of this splendid city. Here is the tip for casual paddlers to do better in the mornings as the water is much calmer.
Horse Riding: Riding off into the desert on a horseback is truly spontaneous and real fun. Mushriff Equestrian and Polo Club of Dubai provide desert rides and solo lessons. Whether you a first time rider or an experienced one, you can easily surprise your companion with this strange transportation in the peaceful desert. If you decide to do this, you would surely feel a deep sense of appreciation for these beautiful creatures.
Couple's Spa:  If you really desire to calm down and reconnect with yourself and your partner, Dubai has a wide range of lavish and amazing couple spa options for a total mental and physical therapy. You can try Raffle Spa, which offers the right environment for good living including one couple spa suite with the unsurpassed spa and wellness facilities.
Party in Dubai: Dubai is famous for its vibrant nightlife. We need to enjoy a single night in a completely free manner.   Most of the clubs in Dubai like the White Dubai, Cavalli Club, Cirque Le Soir, VIP Room and Blue Marlin Ibiza are fully packed on Thursday and Friday nights. Enjoy a gala night life in one of these clubs.