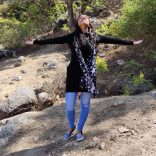 Tarun Tahiliani, an ace fashion designer, completes his 25 years of journey in the fashion industry. He showcased his first ever-virtual couture show and stated that he is sad to see the beauty of trace and felt lost in fashion's new digital world. He presented his collection virtually in association with Blenders Pride Fashion Tour. 
This season almost all the fashion events are been held virtually; Tahiliani in his show stated as "he felt sad as the beauty of fashion is in touch and feel. If you want to try something special for an event. You have to come to retail purchasing. He thinks that choice, that feeling is lost in the digital world."
He set a theme or we can say a backdrop that stated as "Stream of Consciousness". Tarun showcased 25 designs through a virtual debut. In an event, IANS life, spoke to the couturier to get views on fashion going "phygital" a word that is made combining Physical cum digital, and also discussed the role of digital reality in the fashion industry.
On celebrating 25th year in the fashion industry:
As per the statements of couturier
"In the late 80s, I started a store named as Ensemble, that is India's first multi-design store to indorse Indian designers. I realized that if I wanted to be a designer I need to be trained as at that time I wasn't trained. I simply don't want to be a designer by changing Indian crafts; I wanted to bring change, something new that will be constructive and fitted by introducing something new! So in the year 1995, I eventually moved back to Delhi to study, and there we started. I trained for the whole year and created a movement, above all that the clothes become more complex by swathing these edifices. However, I gave such forms in tailoring. I began to combine Indian craft with Western tailoring and magnitudes and that had never been a part of our language of design."