A Top NASA Scholarship Won by a Teenager from West Bengal on Black Holes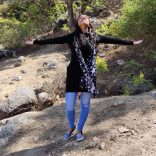 18 years old, class 12 student Satapama Mukherjee, a resident of a village, 30 km from Kolkata has been selected for the prestigious Goddard Internship programme of the Goddard Institute for Space Studies by the National Aeronautics and Space Administration or NASA. She is one of the five scholars in the world selected for the program.
The program is for five outstanding students chosen from around the world every year and NASA's GIP funds their entire educational careers after the school. Sataparna is scheduled for her school leaving examinations this year from St. Judes School, Madhyamgram, in Kamduni, which came to public knowledge after the atrocious gang-rape episode in 2013. She is expected to be at Oxford University for her graduation studies, the post-graduation and PhD as a NASA faculty in aerospace engineering at London Astrobiology Centre.
She told TOI that the entire incident started when she was simply a member of the social networking group on internet including some scientists. She shared her thoughts on "Black Hole Theory", where one member recommended her to post her findings on the official website of NASA, which she complied. Sataparna's findings on Black Hole Theory and the relevant usage of the thesis to create "Time Machine" was greatly welcome. She concluded that she was immensely delighted to get the opportunity where she would work as a researcher at the NASA centre in London.