Anushka Sharma and Virat Kohli – Love- Locked in Paris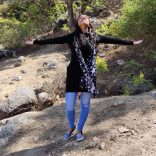 During her busy shooting schedule in Paris, leading actress Anushka Sharma visited the Love-Lock place where couples fasten padlocks on the gate or the bridge as a symbol of love for one another.
Anushka surprised everyone by inscribing the name "Dude" on a pink lock, which is the name of her pet dog. She had used another, but similar lock to write Virat's name on it with a love sign on the pink base. She even added a few smiley's on sides of the lock to emphasize their endeared relationship, which was done on October, 2nd, 2015. It is the jovial style of Anushka to show her emotion to her partner, Virat, who has also responded to her activities in most pleasant and befitting ways.