5 things that every solo traveller must have in the kit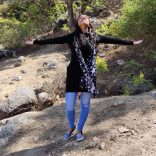 Are you planning to travel solo? Well, then obviously you will enjoy yourself a lot. But, apart from just making your adventure fun-filled, it is also essential to look after the safety factor. You need to equip with first aid kit, luggage tracker and comfortable shoes.
First aid kit
No doubt, a first aid kit is of utmost importance for every solo traveler. It is equally essential for both men and women. Along with this, one should also carry the required medications as well as the prescriptions to avoid any kind of unforeseen problem. For a woman, it is also important to carry a pepper spray to ensure safety as well as a few items for hygiene care.
Airport convenience app
To meet the never-ending waiting line at the airport is really irritating. And there is no way out other than to wait at the queue at several stages before finally you manage to arrive at the destination. But, with the help of the apps that have been developed for the benefits of the passengers you can easily make it up by avoiding the airport formalities.
Comfortable shoes
None can ever underestimate the power of a nice comfortable pair of shoes or sneakers. If you do not want to move into the snooze mode and save your energy, then a nice pair of shoe is definitely worth to carry in your suitcase. It will help you to fight the exhaustion which will come from travelling. So, to ensure that your holiday is not waste and you can reap the maximum out of it, make sure to carry a pair of comfortable sandal, shoes or anything you like to wear.
Portable battery charger
Make sure that you put this in your backpack before you pack the other things. Can you imagine the situation, if your phone battery is dead and you are in the middle of your trip? Your connection with the entire world will be cut off and even during emergency situation you will unable to get any help. Moreover, you will definitely love to take pictures in the new place using your phone, which will not be possible again if there is no charge in the handset. So, everything will go waste. Better, you pack this little but important device in your bag before anything else.
Luggage monitor
Have you dealt with lost luggage anywhere? If your answer is yes, then you must agree to the need of using a luggage tracker. And, if your answer is no, then better you invest in this product to avoid any such upcoming situation. This is a small device that can help you in keeping a check on your luggage. You can track the luggage using your mobile phone. You can get alert and status of your luggage easily on your handset.