Father- Daughter Relationship –A Short Film of Just 15 Minutes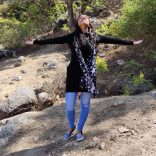 You would like the intrinsic flavor of the story about the relationship of father and the daughter. Within minutes into the film, you would sense a tremendous attachment with the film where Jackie Shroff enacts the role of the father with an unknown, but cute little girl as the daughter. The short movie "Makhmal" is directed by Faraz Ali, who has gathered enough experience in the Bollywood films as assistant director in various productions and also with his short films creations.
"Makhmal" draws your intense attention when you are just in the movie for a few minutes and then you are gripped by the emotional strength of the story and would definitely like the overall ambiance created by the unique movie.
It is the heartbreaking story of a father who is compelled to live a life away from the dear daughter, which is very aptly played by the veteran actor, Jackie Shroff being able to express the grief-stricken image in the movie with very few dialogues. There are no big actors in the movies except Mr.Shroff, who has portrayed the role of the father so beautifully and normally that you would surely appreciate.  Check out the movie yourself here: