Chyna, the WWE Legend Dies at 46Due to Suspected Drug Overdose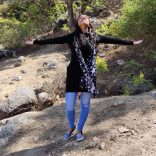 The legend in the WWE circuit, Joanie Laurer, popularly known as Chyna dies at her Redondo Beach apartment at the age of 46. Investigating officials suspect it to be a case of drug overdose. Media reports suggest that Chyna was found in her beach apartment situated in the south of Los Angeles. The police was called at around 7.30 PM local time, TMZ Sports reported. Chyna did not leave her apartment for quite a few days and a particular friend went there to check about her health and found her unconscious. The police helpline was immediately called.
The police, however, did not notice any foul play. Chyna's Twitter handle said, "It was with deep sadness to inform you today that we lost a true icon, a real life superhero."
The WWE legend, Chyna had teamed up with Triple H to become an original member of D-Generation X. She was the first lady to enter the Royal Rumble. However, she left the WWE scene and recently featured for Play boy and TV reality show, The Surrel Life. She joined pornography and participated in at least six pornographic movies released in between 2004-2013.