18 Most Vibrant Travel Destinations in the World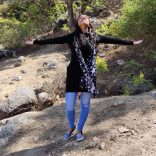 When you are bored with the urban landscape, these 18 places around the world would present myriad colours to infuse pleasure in your vision. These are some of the most interesting places in the world like Thailand and Peru. You decide to take the passport and fly off to these destinations promptly, and there is nothing to blame you for these places are spectacular.
1. Havana, Cuba
Take a tour with time and walk around Havana's multicolored neighborhoods. You find bright hued buildings and vintage cars running on streets. Mark rooftops to find distinct Moorish designs.
2. Rio de Janeiro, Brazil
You cannot overlook multi-coloured buildings in the city, but you must explore the Santa Marta favela, where inhabitants have turned the entire neighbourhood into a massive artwork.
3. Charleston, South Carolina
Stroll down Rainbow Row and enjoy all the charm of the city. Witness 13 striking colonial-era homes in soft pastels; each one is different from the other.
4. Vemazza, Italy
When you hike the Cinque Terre, ensure to take a look over the trail to get a bird's eye view of Vemazza. The vibrant port city is totally amazing.
5. Bristol, England
Stay on the harbor side on Bristol to witness the multi-coloured homes in Cliftonwood. Housing in this suburb has Victorian-style terraces.
6. Wroclaw, Poland
Visit Rynek Plaza to witness Wroclaw's most vibrant square. You find numerous restaurants and close outdoor seating stalls to relax.
7. Willemstad, Curaco
Brilliantly coloured buildings pack streets of this island in the Southern Caribbean. Witness the colonial architecture of Dutch influence in Willemstad's city center.
8. Bo-Kaap, Cape Town, South Africa
Bo-Kapp is a conventionally multicultural area in Cape Town. The locality is famous for brilliantly coloured homes and cobblestone streets.
9. Balat in Istanbul, Turkey
Balat was previously Istanbul's Jewish quarter. Presently, it attracts diverse group of residents and visitors who come to witness the unique architecture of the region and fading colours.
10. Barranco in Lima, Peru
The neighborhood of Barranco is quite different in pace from Lima's urban culture. You find stucco-faced homes in brilliant colours and graffiti artwork nearby.
11. St. John's, Newfoundland, Canada
All Victorian buildings have white-trimmed doors and windows with bold colours making them easier to spot from the nearby water in St. John.
12. Old San Juan, Puerto Rico
You would love the restaurant and bar in the multi-coloured , seven-block neighborhood. Witness the influence of classic European architecture with every building of unique shade.
13. La Boca, Buenos Aires, Argentina
The neighborhood situated near the mouth (boca) of the Riachuelo River had an exciting beginning. It was built with mismatch scrap metal from the nearby shipyard, and residents collected all the paint they could manage to give the metal a fresh look, which turned into the puzzle-like design visible today.
14. Pattaya, Thailand
Pattaya may be famous for its nightlife, but the city's brilliant colours draw tourists looking for beauty. Witness the view from any high-rise condos or resorts.
15. San Francisco, California
"Painted Ladies" homes on 710-720 Steiner Street , across the Alamo Square, San Francisco are iconic. They are also called "Postcard Row" for a reason and should be witnessed in person.
16. Valparaiso, Chile
It is the cultural hub of the port city, Chile where inhabitants convey their creativity with multi-coloured buildings containing equally attractive murals and street artwork.
17. Copenhagen, Denmark
You find Nyhavn, the 17th century waterfront, canal and entertainment district in the capital district of Denmark. Here are abundant restaurants, cafes and bars to select from when dining near the harbor.
18.Provence Vilalge of Menton, Provence – Alpes Cote d' Azur , France
Situated in southwest France on the French Riveria, Menton is the right place to witness multi-coloured architecture. Look back at the town from the harbor when the sun sets on buildings with golden colours.