Richa Chadha Says She never kissed Randeep, but just pretended to be so!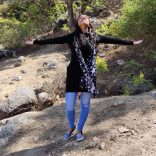 Plenty of buzz was created by the preview launching of celebrity Richa Chadha's forthcoming movie following the celebrity and her co-star Randeep Hooda on stage kissed. Nevertheless, Richa says although the two never kissed, but only faked, as they wished to offer a sneak peak to the film's main topic for mere publicity stunt.
"This was never the strategy. Richa never kissed the actor stage. It only seemed like the two were kissing. The two were in our characters and it was simply to show the crowd a small amount of exactly what the movie is about. The two never believed that folks would really believe that we kissed. But Richa can not say I am surprised at their reaction," she says.
The performer, who'll next be seen in Pooja Bhatt's production, is juggling multiple jobs for sometime now, but she isn't whining.
"Richa must multitask. In Hollywood, celebrities do one movie in annually, but here people must juggle. I went along with my last film, although Later felt overwhelmed through the promotions of it — Masaan. You do not realise it at the time, but later on you think about what all you had to do," – says Richa, who took a rest after the movie released.
"Later went travelling abroad. I used to be joyful to maintain an area where no one understood me and where I possibly could see locations, sit in cafes and do everything that I wished to do," she says, adding, "I'm a workaholic and usually I never take some time off. But, after Masaan, later realised that I simply had to. To relax, later often meditate," – She says.