Parvathy is Again On The Limelight For Apt Replies On Instagram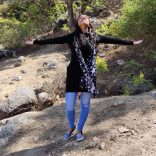 Parvathy, the most popular performer in Kerala now is in the news from last year along with her outstanding performances in Movies like Bangalore Days and Tamil movie Mariyan. This year she again get to be the centre of attraction of the Malayali people together with her excellent performance as Kanchanamala in the movie Ennu Ninte Moideen. Her performance was broadly valued at the same time as she was accepted by the mollywood movie fans as their most favourite heroine after Manju Warrier.
Lately she'd made a space in the news columns along with her opinion that she don't need to attach any caste name to her first name Parvathy and she not Parvathy Menon but Parvathy just. Today again the daring celebrity had become the focus of everyone as she'd given an clever and strong answer to a guy who posted a negative opinion in her Instagram account.
A man named Alfred had made a vulgar remark about her in her Instagram account under among her picture. She'd given a response to him with strong words as she said in a sarcastic way that congrats for being the representative of the very uncultured 16 year old in this generation. She stated that she feel sorry for your family where that man is born and also guided him to learn how to act correctly. Otherwise the world will instruct him how to act and that lesson taught by world may be not a nice one too.