Pakistani Actress's Message "Darling Modi" Boils Your Blood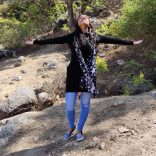 The easiest way to go viral on social media is through condemning and criticizing the Indian Prime Minister, Narendra Modi. Now, it has also been used by some people in Pakistan as a strategy.
It is in the backdrop when both the countries are trying to narrow down the differences to create a healthy relationship; a certain Pakistani Actress joins the bandwagon to make things more poorly. If you think that she is condemning India and its citizens, you are terribly wrong. The Pakistani actress, Qandeel Baloch, that is her name, is targeting the most prestigious position of the nation. Yes, of course, you have thought rightly, it refers our PM, Modi.
In her video post in her Facebook page, Qandeel ridiculed PM Modi by calling him "Chaiwala" and Darling". She further warned him so that he acted like a child of a human (Insaan ka Bachcha).
She went on to add that they, Pakistanis being very loving people did not believe in hatred. Hence, she would prefer the action of a human being and warned not to make them angry. She hadn't realized that her   publicity stunt would only get her admonished in social media.