Is Deepika Padukone Being Cast Against Brad Pitt in A Romantic Comedy?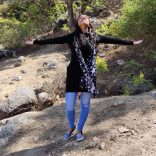 Media has been buzzing with the information for quite some time about Deepika Padukone being cast against Brad Pitt in a Hollywood movie. Deepika fans are tremendously excited about the news about the surprise jump of Bollywoods's Mastani's XXX. The actress is currently busy in shooting in Hollywood opposite Van Diesel in the Xander Cane Project, The Return of Xander.
The news comes as a quote in a publication confirming that Deepika has claimed the led role in a Hollywood romantic comedy opposite Brad, which is yet to be confirmed by the actress. The previous year a successful milestone for her and with the present news, it is hoped that 2016 would also be a year of glory for her if not brighter than 2015.
Fresh sources tell that people close to the actress wanted to reach her for confirmation as she was shooting for XXX in Canada. Nevertheless, she could not be contacted due to her busy schedule and also for the time lag between India and Canada.