Chinese Couple Buys an iPhone by selling Their 18-month Old Daughter Online for 2.28 Lakhs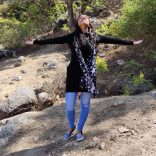 Owning an iPhone is an expensive affair and everyone cannot have it.There are some people who would cross the limit of insanity to grab the iPhone.
A Chinese couple did exactly the same thing. 19-year old parents decided to sell their 18-month old daughter online for getting hold of an iPhone and a bike.
People's Daily Online reported that the parents released an ad on social media network QQ with the price tag of 23,000 Yuan (Rs.2.38 lakhs) on the baby girl. The worst part of the news is that a buyer contacts the father for the same.
'A Duan' and 'Xiao Mei' (changed names) let their undesired pregnancy to mature and realized that the baby girl was merely a "financial burden". When Xio was working on several jobs to run the family, Duan used most of her time at internet cafes.
The buyer of the baby girl got the baby for his sister who has the baby in her possession till today. Authorities are trying to identify the buyer and have also awarded a 3-year imprisonment to Duan and Xiao has been given a sentence of two and half years.
According to the Chinese media reports, approximately 200,000 babies are kidnapped every year and are sold online openly.